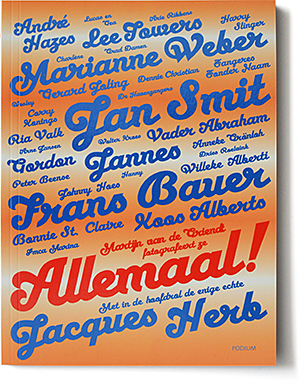 Title: Allemaal!
By: Martijn van de Griendt
Publisher: Podium in October 2006
'Levenslied' is Dutch for a particular genre of songs written in the Dutch language, which can be compared to Portuguese fado or American blues, although there are obvious differences in sentiment with both. The Levenslied and its stars are hardly known outside of the Netherlands, though at home some of the stars are worshipped as if they were God on earth. Photographer Martijn van de Griendt documented some of them on tour, a project that resulted in a collection of humorous, emotional and striking photographs. Frans Bauer, Marianne Weber, Lee Towers, Koos Alberts, Vader Abraham, Gerard Joling, Bonnie St. Claire, Jan Smit and Willeke Alberti – in Allemaal! we not only see them and other artists on stage, but also in their dressing-rooms and meeting their fans. Some of them were even captured at home. The entire book is printed on high-gloss paper.
From a review in Het Parool: "A beautiful photo book […] The book acutely strikes the reader with its humor."