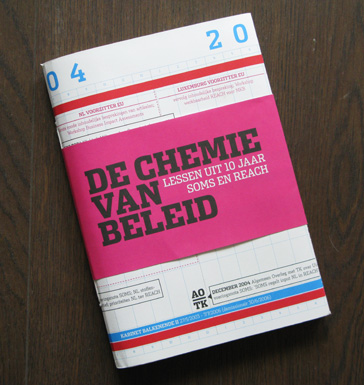 Title: De Chemie van Beleid
Publisher: Bureau KLB
Publication that presents the lessons out of 10 years SOMS (Strategy how to deal with substances) and REACH (Authorization of Chemical substances). The challenge was to incorporate the design of an
agenda that presented 10 years of decision making. We had to deal with so many elements in this agenda that it was almost impossible to put it in a small A5 information booklet and at the same time keep the overview. The solution was to design it as the foldout cover of the booklet. Heijdens Karwei collaborated with Hanneke Meijers on the design.